Lottah Nursery Tasmania, Australia
Viburnum x bodnantense 'Dawn'
This is a hybrid of V. fragrans and V. grandiflorum raised in 1935 at the Bodnant Gardens in Wales.
Flower buds start developing through summer and start opening sporadically into fragrant pink flowers though late Autumn, Winter and into Spring at a time when most deciduous shrubs are dormant.
Juvenile plants are vigorous, maturing into a shrub of 2-3 m high.
(click on thumbnail for larger image)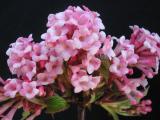 60410-5410 (1, 1, 19, 104)