Lottah Nursery Tasmania, Australia
Halesia monticola
Syn. Halesia tetraptera, 'Mountain Snowbell'
Reported to grow to 25 m in its native habitat, the deciduous 'Mountain Snowbell' is not expected to grow much larger than 6 m in cultivation.
Bears clusters of 2-5 campanulate white pendulous flowers around 25 mm long along past season's leaf axils in Spring before the leaves emerge.
Juvenile growth is fairly vigorous. Leaves turn yellow in Autumn; mature trunks are reported to exfoliate providing additional attractive feature in Winter.
( click on thumbnail for larger image)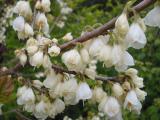 60410-5760 (1, 2, 15, 103)