Lottah Nursery Tasmania, Australia
Magnolia dianica
Syn. 'Michelia yunnanensis'
This delightful shrub from South-West China has long been known to gardeners as Michelia but recent advances in taxonomy have seen this genera as well as Mangelitia and Talumia subsumed under Magnolia. We recommend visiting the Magnolia Society's website for more information on the subject.
A carefree evergreen shrub to 3 m or so, dianica bears masses of fragrant white cupped flowers over 50 mm across in Spring. Until the recent reclassification the main distinguishing characteristic of Michaelias was their ability to bear flowers on terminal as well as axillary buds.
Despite the relatively small flower size, the evergreen form and multitude of fragrant flowers makes this a desirable addition to the garden.
Koromiko Nurseries in New Zealand has a key with descriptions of many Michelia species
(click on thumbnails for larger images)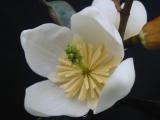 50401-7183 (1, 3, 16, 16)