Lottah Nursery Tasmania, Australia
Hydrangea quercifolia Snowflake
Syn. 'Oak Leaf Hydrangea'
Native to south eastern US, quercifolia makes a medium sized shrub with leaves 150 - 200 mm long resembling that of quercus, hence the name. Often found growing in limestone country, this plant would need neutral soils for best performance. Height of mature plants is around 1.2 - 1.5 m but plant is capable of spreading through suckering, a not altogether undesirable feature were space available.
Bark on older stems exfoliate but is largely hidden by leaves. Found growing in the understory in its native habitat, Dirr reports that quercifolia performs best under partial shade, and tolerably under dense shade; we find it performs satisfactorily in full sun as well. Neutral to alkaline soil is ideal for this hydrangea.
The species as discovered is a very garden worthy shrub with masses of creamy white flowers persisting over a long season until Winter. Leaves turn a brilliant scarlet in Autumn and retain that condition for several weeks before abscising.
'Snowflake' is a selection with sterile double florets 40 mm across starting greenish, turning creamy white then pink and finishing off brownish. Often the same range of colors may be observed on the same floret on different sepals. Panicles may be up to 300 mm long.
Flowers begin to open around mid summer and extend into Autumn.
(click on thumbnails for larger images)
Lilac Nursery Home Catalog

External link: Missouri BG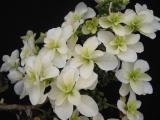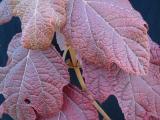 50401-8489 (1, 2, 26, 281)