Lottah Nursery Tasmania, Australia
Eucryphia x nymansensis Nymansay
'Nymansay' is a natural hybrid of E. cordifolia x E. glutinosa that appeared spontaneously in an English garden around 1914, and elsewhere subsequently.
It is a large upright evergreen shrub or tree growing to over 10 m height under ideal conditions but we expect it to mature to 6 m or so under cultivation. Leathery leaves are usually trifoliate but sometimes simple as well. Juvenile plants often have compound leaves with five leaflets.
Cup shaped flowers are pure white 60 mm across and arise in pairs in great profusion from nodes in late Summer or early Autumn. There is no discernible fragrance but bees find the flowers very attractive.
(click on thumbnails for larger images)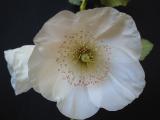 50401-6715 (1, 1, 13, 100)