Lottah Nursery Tasmania, Australia
Eucryphia milliganii
Syn. 'Dwarf Leatherwood'
Endemic to the central mountainous regions of Tasmania, E. milliganii is considered by some to be a dwarf variant of E. lucida which is more prevalent on the west.
Flowers are pure white, 15 mm across, cup shaped, solitary, arising in pairs from nodes in great profusion in mid- to late Summer.
Unlike E. lucida which grows to 30 m in its natural habitat, milliganii forms an evergreen compact shrub 2-3 m high with dense branching and all parts diminutive.
In common with other natives this species is best grown on soil at the lower end of pH; fertilizers need to have low phosphorous content.
(click on thumbnail for larger image)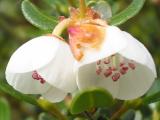 3289 (1, 5, 17, 72)