Lottah Nursery Tasmania, Australia
Syringa yunnanensis Prophecy
Raised by Fiala from treated S. yunnanensis seed to produce a tetraploid form with larger flowers than is usual for the species as well as thicker leaves. Introduced in 1969.
Flowers are very late flowering single pink with lavender overtones and minimal fragrance; expected to mature at 2-2.5m on an open shrub.
Appears to be resistent to blight; has demonstrated no inclination to sucker at the Nursery.
(click on thumbnail for larger image)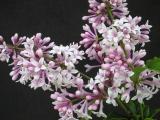 60410-6238 (1, 3, 28, 224)