Lottah Nursery Tasmania, Australia
Syringa vulgaris Burgundy Queen
Syn. 'LECburg'
Appears to have been selected by Daniels in 1993 as an earlier flowering mutation of Lemoine's 'Monge'.
Flowers are very fragrant, with large purplish twisted lobes and sporting prominent contrasting anthers. 'Monge' is given a rating of 'excellent' by Fiala, and 'Burgundy Queen' is comparable to that in other characteristscs.
S. vulgaris selections typically grow into large shrubs 3m high with a spread of 2m and usually exhibit a propensity to sucker.
(click on thumbnail for larger image)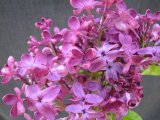 60410-6146 (1, 5, 36, 246)