Lottah Nursery Tasmania, Australia
Syringa vulgaris Wedgwood Blue
Syn. 'Wedgewood Blue'
Bred by Fiala by crossing 'Rochester' with 'Mrs. A. Belmont' and introduced in 1981.
Highly fragrant blue single flowers develop from pinkish buds. Good blues are a rarity amongst lilacs and this is exceptional.
Given the 'Rochester' ancestry we expect this might be smaller than the typical 3 x 2 m expected of the species but no less inclined to sucker.
(click on thumbnail for larger image)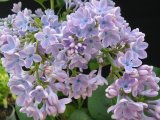 2005-7421 (1, 3, 17, 110)