Lottah Nursery Tasmania, Australia
Syringa (Villosae Group) Miss Canada
Syn. S. x prestoniae 'Miss Canada'
Bred by Cumming at the Morden Arboretum in Canada from S. x josiflexa 'Redwine' x S. x prestoniae 'Hiawatha' and introduced in 1967 with name being registered the same year.
'Miss Canada' is a often described under S. x prestoniae, but being a complex second generation hybrid, it is more accurately classified as an interspecific hybrid.
'Miss Canada' is a non-suckering shrub and is best grown as a tree form with multiple stems. Our limited experience of this cultivar shows that it is precocious in flowering, making limited extension growth annually. This is confirmed by reports that it is a semi-dwarf growing to 2 m or so, considered smallish relative to others in the Villosae group.
Described by Fiala as an exceptionally fine cultivar, this is a late flowering hybrid sporting large clusters of dark red buds opening into deep pink/magenta single florets with minimal fragrance.
(click on thumbnail for larger image)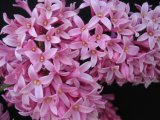 5133 (1, 3, 14, 14)