Lottah Nursery Tasmania, Australia
Syringa tomentella
First described by Bureau and Franchet in 1891 from plants collected on the mountainous borders of Yunnan province in China.
Flowers in the wild can be either single white or pink, appearing late season; fragrance unremarkable. Our selection bears white flowers in open racemes.
This is a non-suckering open shrub growing to 4 x 2m.
(click on thumbnail for larger image)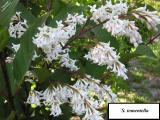 4588 (1, 3, 1, 136)