Lottah Nursery Tasmania, Australia
Syringa (Villosae Group) Elaine
Syn. S. x josiflexa 'Elaine', Preston No. 30-01-47
This is an open-pollinatd seedling of S. x josiflexa 'Guinevere' that was introduced by Isabella Preston in 1934 with the name presumed registered in 1953.
It was bred to withstand the harsh Canadian winters and is unusual amongst this particular class in sporting single white flowers on sturdy stems late in season; it has negligible fragrance.
'Elaine' grows into a largish shrub or small tree 3 x 2m with no reported tendency to sucker and is best developed as a multi-stemmed tree.
[ILS Journal 32/4 carries the reprint of a 1946 article by Preston which includes some information on the origins of this cultivar.]
(click on thumbnail for larger image)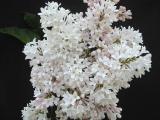 41106-3708 (1, 4, 21, 21)