Lottah Nursery Tasmania, Australia
Syringa vulgaris Cora Brandt
Introduced by Clark in 1947, with the name being registered in 1953. There is a discrepancy between the official Lilac Register which describes it as S. vulgaris, parentage unknown, and Fiala's book refering to it as a hyacinthiflora cross. Flowering season would appear to support the former.
This has easily been the most floriferous of the older lilac plants at Lottah with regular flowering mid-season. Florets are double hose-in-hose, in large dense trusses and are fragrant.
Typical of the species it grows into a largish shrub 3 x 2m and has demonstrated a tendency to sucker.
click on thumbnail for larger image)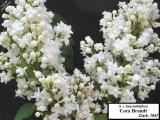 60410-6244 (1, 2, 20, 100)