Lottah Nursery Tasmania, Australia
Syringa protolaciniata
Syn. S. laciniata, 'Cut-leaf Lilac'
Unusual amongst lilacs in having cut-leaf form that is attractive when not in flower. Once believed to be a hybrid it is now classified as an unique species.
It is a semi dwarf cultivar maturing to a rounded shrub of 1.5 m sporting very fragrant lavender flowers along the stem on terminal as well as on axillary buds early in season. Plants making vigorous growth often bear flowers along 300 mm or more along their stems. Has demonstrated no propensity to sucker.
Reports indicate that this species is suited to marginally warmer areas with lower winter chilling factor; we are unable to determine exactly which parts of Australia this will flourish where S. vulgaris usually fails.
(click on thumbnails for larger image)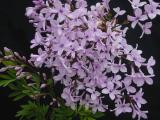 9365 (1, 3, 3, 248)