Lottah Nursery Tasmania, Australia
Eucryphia jinksii
Eucryphia jinksii (Springbrook Leatherwood) was discovered in 1994 comprising of a small stand of trees in high country near Springbrook on the New South Wales/Queensland border, and named after the discoverer, David Jinks.
According to the photographer "The flowers are quite prolific and occur near the branch tips which on a 25m tree are a little tricky to get to and photograph! These were taken in March 2005; the flowers are on average 50mm across and are delicately fragrant".
This is an extremely rare plant and we are not aware it is commercially available at present. The few fortunate enough to lay hands on this species have found it a difficult subject to propagate compared to other Eucryphias.
We would like to thank David Jinks for providing us the images.
[Reference: Forster, P.I. and Hyland, B.P.M. (1997): Two new species of Eucryphia (Cunoniaceae) from Queensland, Austrobaileya 4: 589-596.]
(click on thumbnails for larger images)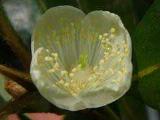 5531 (1, 5, 24, 133)